☕ 5 Dead-Simple Tricks To Get Your Customers' Attention (And Avoid Chasing Them Desperately)
(4-min read)
Welcome to the weekly Customer Success Café newsletter!
32 new members have joined us since last Sunday, and 1053 top talented pros are now receiving a quick CS best practice from me to level up their skills every single week.
If you are not subscribed yet, sign up now to make sure you get the next editions delivered to your inbox!
P. s. wanna sponsor my newsletter? email me for details.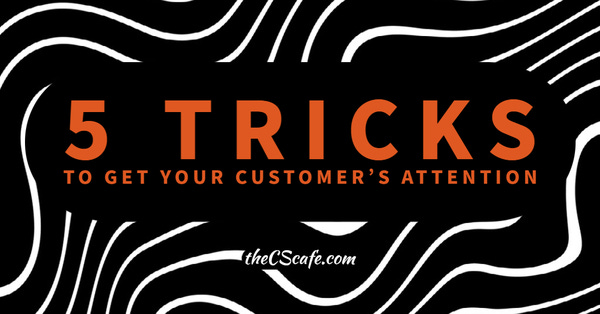 Illustration © Hakan Ozturk
You're in Customer Success.
You are the ears and eyes of your company in the field.
But problem:
Way too often, you find yourself chasing your customers to get them to respond to your requests.
You know this situation is not sustainable and that you have to do something to reverse it. Otherwise, it's going to be painful for you to hit your targets.
Today, we are going to explore how you can capture their attention in the most simple ways, get them interested in what you have to say, and take action.
So, here are 5 tricks you can start working on immediately:
1/ The Reciprocity Principle
As you sow, so shall you reap.
This should become a mantra for everything you do.
Basically, you must give first to receive.
Indeed.
People often feel the urge to return a favor you did.
But the most common error CS pros make is that they keep on asking while they help out too little.
And the consequence is that customers get defensive, and even suspicious of your intentions over time.
You then start losing their attention and it's done, game over!
To avoid such a scenario, go all in and provide them with all the information you can, connect them to the right resources while showing a genuine interest in their business.
Simply said, make their job and life easier, get quick wins and celebrate successes on the way.
But do not ask for anything, at first.
Give your customers the initiative to return you that favor when you'll need it the most later on.
And I guarantee they'll do!
2/ Get Your Foot-in-the-Door
If your customer did something for you once, they're more likely to do it again a second time and more.
So, your objective is to start small and have your customer say "Yes" to an effortless commitment, voluntarily.
Then, chances are that they will commit to something bigger for you.
As an example, think of the free trial your company offers to new prospects.
Once the trial period ends, it becomes easier for them to upgrade to a paid version now that they had a good taste of your solutions for free.
Therefore, instead of asking your customers to take big actions, start with tiny and easy steps to execute.
This will set the foundations solid to capture their attention, get them involved, and grow your partnership over time.
3/ Use Social Proof
It's a psychological fact.
People are primarily influenced by others to take action as we've seen in a previous edition with the confirmation bias effect.
With 3+ billion social media users, your customers will check what others think and say about you on social media first before making any decision.
They'll look into reviews and testimonials from other customers to confirm whether they are making the right move or not.
So, gather all the positive feedback you can and include them in your communications to support your point as needed.
4/ Create Scarcity & Urgency
The more something becomes scarce, the more we want it.
How weird is that?
Nobody likes to have the feeling that they might be missing out on a great opportunity.
Moreover, if the offer has limited availability and a deadline, it creates a sense of urgency your customers feel deeply and cannot ignore.
Therefore, always have in mind to frame your requests with a given timeline and a limited number of seats where possible.
Then tell them what they would lose if they don't take action now and see what happens!
5/ Use the Framing Effect
People avoid taking risks if they are satisfied with what they have.
But when you twist your narrative from "today's gain" to "tomorrow's loss", they suddenly become more open to taking the risk and change.
For example, instead of saying "with our solutions, you'll increase your productivity by 30%",
say "you'll save 50+ hours in productivity per week!".
The same applies to your emails.
Rather than saying "here's a blog post to help you with [topic, issue]",
reframe it and say "here's a blog post to help you avoid wasting your time"!
Give it a try and thank me later! 😎
And that's it!
These are 5 simple tricks to get your customers' attention and make them take action:
The Reciprocity Principle
Get the Foot-in-the-Door
Use Social Proof
Create Scarcity & Urgency
Use the Framing Effect
But there are more which I'll be covering in the upcoming editions.
---
CS Café Hiring Zone
I'm personally curating the most unique jobs in Customer Success.
P.S. wanna see yours on the list? email me with details.
Today's Featured Opportunities
EMEA
US
LATAM
APAC
---
Thank you!
If you are enjoying my newsletter, the best favor you could do for me is to share it with your network and just say a few nice words online.
This will help me grow this amazing community and provide even more value to you over time.
Have a great week ahead!
And as always until next Sunday, take care friends!
Hakan.
P.s. are you looking for a career change to transition into Customer Success or develop your current skills to become a great CSM? check out my book to hit the ground running!
---
Let's connect!
Twitter: follow me @DrivingCS – I tweet daily.
Linkedin: let's connect!
Instagram: @drivingcs
The Customer Success Café Podcast
Customer Success fundamental skills and best practices to get ahead in 2022 and beyond!
Visit DrivingCustomerSuccess.com
Top CS news from Silicon Valley to Paris and beyond, daily.
Hakan Ozturk
Founder, TopCSjobs.com & The Customer Success Café Newsletter
Hakan Ozturk is a Paris-based Customer Success leader with over 15 years of experience in the computer software industry. Passionate about driving growth and delivering value to strategic customers, Hakan has established himself as a trusted industry expert. As the Founder of The Customer Success Café Newsletter and TopCSjobs.com, Hakan provides valuable industry insights and daily-updated job opportunities worldwide in the field of Customer Success. Connect with Hakan to unlock your company's potential for success.