☕ Top 3 Copywriting Techniques That'll Keep Customers' Eyes Glued to Your Message And Make Them Take Action
(4-min read)
Welcome to the weekly Customer Success Café newsletter!
29 new members have joined us since last Sunday 🥳🎉
1,131 smart people are now receiving a quick CS best practice from me to level up their game in under 5 mins every week.
If you are not subscribed yet, sign up now to make sure you get the next editions delivered to your inbox!
P.S. wanna sponsor my newsletter? email me for details.✓
Writing skills are fundamental to Customer Success.
You need to know how best to communicate on any given topic.
But what if you went a step further and wanted your customers to take a very specific action?
Asking them alone to do something often doesn't work.
You need to "make your case", get them interested, and then request what you need.
This is where comes the holy grail of writing:
Copywriting.
It's the process of writing persuasive text that motivates people to take action.
These can be such as clicking on a link, scheduling a call, registering for an event, visiting a website, and so on.
The product here is the "copy" and it has one single mission:
Persuade a target audience to take a particular action.
But how?
By making them feel seen and understood while you help them root for a better future.
The problem is that most people have no idea how to write a great copy nor where to start.
So, here are the 3 most simple techniques you can use immediately to make your customers crave to take an action:
1/ PAS: Problem, Agitate, Solution
This is a formula for almost anything such as emails, social media, or your websites.
It's simple and direct, my all-time preferred one.
And it's composed of the following 3 core steps:
1/ Problem
Write a single sentence defining a specific problem your customers are struggling with.
Think of it like a wound you want to help them heal.
And it has one single goal, and one only:
Hook the readers' attention and get them to read the next sentence.
Example:
(Problem): Many people fear writing online.
Note: don't ask questions that would prompt your audience to respond "No". If so, they are gone, and it's game over for you.
2/ Agitate
This is where you amplify the emotional and even physical pain the problem is causing.
So, put some "salt on the wound".
It's a bit extreme but illustrates well the picture you want to paint for your readers.
Insist on the frustration or anger they can feel because of the concerns you mentioned.
Don't use complex words but use your own language. Describe what they are experiencing when they face the problem.
Insist on all the negative consequences that arise while dealing with it.
In our example, you could say something like:
(Agitate): They fear judgment from their coworkers, friends, or family. They think their ideas are not interesting or not worth publishing. They crave for attention but end up stuck with the writer's block, not knowing how and where to start.
3/ Solution
Now that you set the scene, it's time to solve the problem with what you have to offer (products, services, etc.)
Again in our example, it could be something like:
(Solution): Publish your 1st article in one week. Here's everything you need to overcome your fear, build confidence and start writing!
2/ The 4 P's
This technique stands for Picture, Promise, Prove, and Push.
It works great for describing issues you've experienced firsthand.
Why?
Because you've already gone through the process yourself.
You know what your customers might feel at that particular moment.
So, the formula goes like this:
1/ Picture
Paint the current state of how things work today.
Set up the scene where your customers live, including their pain points and what they want to do.
2/ Promise
Give them the promise of solving their issues if only they used your products or services.
3/ Prove
Now, this is the critical part.
Most people look for customer testimonials to confirm they make the right choice.
See the confirmation bias I've discussed in a previous edition about the 7 mental secrets here.
Show them how other customers did and all the great things they achieved with your products or services.
Doing so, you help them remove any doubts and prove that you'll stick to your promise.
4/ Push
And finally, ask the customer to take action in a clear and direct manner. Reduce frictions and efforts they have to make to go for it.
3/ SSS: Star, Story, Solution
I like this technique much because it's all about storytelling as in any great movie.
1/ The Star
This is the main character of your story, the person who had a problem, your hero.
2/ Tell the Story
Talk about the pain points, weaknesses, and strengths your star had.
Bring in the reasons why he/she had to make a change.
3/ Give the solution
Place yourself as the guide who helped your star overcome challenges and succeed.
Tell your audience how your solution helped the hero create a complete transformation.
And finally, explain why your product or services were the perfect fit with a massive outcome.
And that's it!
These are 3 copywriting techniques that will make your customers take an action on the spot.
Now that you're aware of how they articulate, you'll see them everywhere around you 🙂
Apply these tips and you'll never write and communicate the same way again!
And as you keep practicing, you'll write better copy over time.
As I always say, once you see it, you cannot unsee 🙂
CS Café Hiring Zone
I'm curating the most unique jobs I've come across this week in Customer Success.
p.s. Let me know if you want yours added to the list.
Today's Featured Opportunities
EMEA
US
LATAM
APAC
Thank you
If you are enjoying my newsletter, please share it with your network and say a few nice words online.
I'll speak to you again next Sunday!
Until then, have a great week ahead and take care friends!
Hakan.
About You
I'm looking forward to learning more about you.
How are things going so far for you?
Why did you join my newsletter?
What's your biggest struggle right now?
What are the things you'd like me to cover more in my newsletters or help you with?
Please feel free to reach out either by email, on social media, or by clicking the thumbs up below for feedback.
I'd love to hear from you!
Note: I never disclose private messages without asking for permission first.
Let's connect!
Twitter: follow me @DrivingCS – I tweet daily.
Instagram: @drivingcs
Linkedin: let's connect!
Are you looking for a career change to transition into Customer Success? check out my book to learn more about what it takes to become a great CSM and hit the ground running!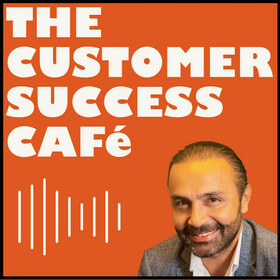 The Customer Success Café Podcast
Customer Success fundamental skills and best practices to get ahead in 2022 and beyond!
Top CS news from Silicon Valley to Paris and beyond, daily.
Hakan Ozturk
Founder, TopCSjobs.com & The Customer Success Café Newsletter
Hakan Ozturk is a Paris-based Customer Success leader with over 15 years of experience in the computer software industry. Passionate about driving growth and delivering value to strategic customers, Hakan has established himself as a trusted industry expert. As the Founder of The Customer Success Café Newsletter and TopCSjobs.com, Hakan provides valuable industry insights and daily-updated job opportunities worldwide in the field of Customer Success. Connect with Hakan to unlock your company's potential for success.