☕ Top 5 Questions To Ask Your Customers
(4-min read)
Welcome to the weekly Customer Success Café newsletter!
1.021 smart people are receiving a quick CS best practice from me to level up their skills every single week in under 5 mins!
If you are not subscribed yet, sign up now to ensure you get the upcoming editions to your inbox!
P. s. wanna sponsor my newsletter? email me for details.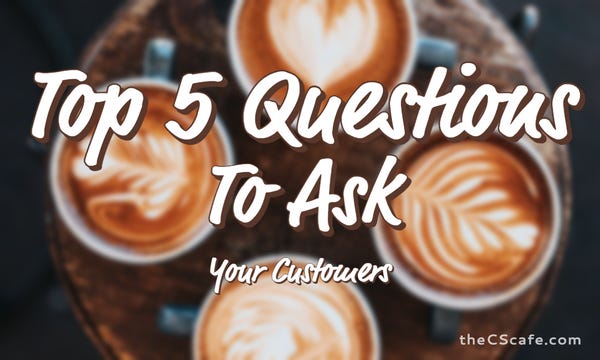 "Talking to your customers is worth 1.000 internal meetings."
This is what I tweeted last week to bring people's attention to the importance of spending more time discussing with customers than internally.
And given the reaction I've got from my audience, it prompted me to elaborate more in detail and help you focus on the most important conversations you should have with your customers as a starting point.
Indeed.
Your goal as a Customer Success Manager is to understand your customers' needs and sometimes even better than they do themselves.
But this is only possible if you talk to them directly instead of spending hours in internal meetings and playing the guessing game!
However, simply picking up the phone, getting on a zoom call, or meeting in person is not sufficient.
It might help them feel they are being heard but you need to go deeper into the discussion and uncover the real challenges they are facing.
And this is why you need to come up with a clear objective in mind and drive your talks by asking open-ended questions.
So, here are the top 5 you should ask your customers, make note of their reactions and take laser-targeted actions to assist:
1/ What are your biggest challenges?
Your personal and company's success depends on how well you can help your customers achieve their business goals.
But the truth is they are not experiencing one single issue but many of them at the same time.
Some are top critical while others are less important or urgent.
And it's impossible in practice to address them all at once.
This is why you need to prioritize and focus on the biggest problems they are facing like the "must-haves" instead of the "nice-to-haves."
So, simply ask this first question during your initial conversations.
It will help you reveal your customers' top priorities while giving you the opportunity to demonstrate a genuine interest in their business and build stronger partnerships.
2/ How are you solving this problem today?
Now that you have the answers from the previous step, you need to go deeper and understand how they are addressing these challenges today, in practice.
Why?
Because you need to see how your customers are operating and which solutions they are using to complete the job at that particular moment.
This will give you the opportunity to uncover any gaps and show how your products or services can be a better and cost-effective way for them to achieve the same goals and more.
So, ask this question to help them evaluate switching to your solutions for greater business outcomes while they save time and money along the way.
3/ What does a successful day look like to you?
I like this question much because it's not only related to their work but also can provide more information from a personal perspective.
While it's important to your customers that a business problem is resolved, having more time to spend with their family as an example could be a higher source of motivation for them.
And uncovering such information in your conversation will let you demonstrate how your products or services can help them also achieve their underlying desires.
This is why this simple question can relate to more nuances of your customers' challenges and help you move forward with your investigations.
4/ What is the one thing we can do to serve you better?
There are for sure many things you can improve as an organization and company.
But rather than trying to address all of them at once, you should first focus on what matters the most to narrow down the discussion to a particular topic.
You can then note it as a takeaway and start working on it immediately.
In doing so, your ability to address this one thing will be a quick win for you to build more trust and credibility right from the beginning.
Therefore, just go find out where you should prioritize your efforts and listen to your customers more than you do the talking!
5/ Why? Tell me more about …
And finally, this is the number one question you should have in mind at all times and ask your customers often during your conversations.
One way to go deeper is to use the famous technique called the "5 whys".
The primary goal here is to identify the root cause of a problem your customer is facing by repeating the question "Why?" five times.
This will provide you with massive insight into your discussions.
And usually, the answer to the 5th "why" will reveal the reasons behind a customer's deepest motivation or issues so you can take action.
So, ask this question often as if you were a curious detective with endless appetites!
Overall, here are some guidelines for you to follow and be precise when asking your questions:
Get to know your customers' business before anything else as I've described in a previous edition about the 5 easy steps to Customer Success.
Stay away from buzzwords.
Don't use your corporate jargon or acronyms. Speak your customer's language.
Ensure you write down your questions and the answers.
Use open-ended questions, meaning those that cannot be answered just by Yes or No.
Avoid asking multiple questions at once. Keep it simple and one question at a time only.
Well, that's it!
These are 5 top questions to ask your customers in priority:
What are your biggest challenges?
How are you solving this problem today?
What does a successful day look like to you?
What is the one thing we can do to serve you better?
Why?
Asking them will help you get the valuable feedback you need to strengthen your relationships and drive success with your customers in the long run!
---
CS Café Hiring Zone
I'm personally curating the unique jobs I've come across or have been made aware of this week in Customer Success.
P.s. Let me know if you want exposure to the opportunities at your company and I'll include them in my newsletter.
Today's Featured Opportunities
EMEA
US
LATAM
APAC
---
Thank you!
If you are enjoying my newsletter, the best favor you could do for me is to share it with your network and just say a few nice words online.
Have a great week ahead!
And as always until next Sunday, take care friends!
Hakan.
---
About You
I'd love to connect and learn more about you!
Please feel free to reach out either by email, on social media, or by clicking the thumbs up below for feedback.
Note: I never disclose private messages publicly without asking you for permission first.
---
Let's connect!
Twitter: follow me @DrivingCS – I tweet daily.
Instagram: @drivingcs
Linkedin: let's connect!
The Customer Success Café Podcast
Customer Success fundamental skills and best practices to get ahead in 2022 and beyond!
Top CS news from Silicon Valley to Paris and beyond, daily.
Hakan Ozturk
Founder, TopCSjobs.com & The Customer Success Café Newsletter
Hakan Ozturk is a Paris-based Customer Success leader with over 15 years of experience in the computer software industry. Passionate about driving growth and delivering value to strategic customers, Hakan has established himself as a trusted industry expert. As the Founder of The Customer Success Café Newsletter and TopCSjobs.com, Hakan provides valuable industry insights and daily-updated job opportunities worldwide in the field of Customer Success. Connect with Hakan to unlock your company's potential for success.