3 Common Phrases You Should Avoid in Customer Success (And What To Say Instead)
(4-min read)
Welcome to the weekly Customer Success Café newsletter!
Join 858 other smart people who are getting a quick CS best practice from me to level up their skills every single week and sign up now!
Today at a glance
3 Common Phrases You Should Avoid in Your Communications
CS Café Hiring zone
About you!
#17 The Customer Success Café – 3 Common Phrases You Should Avoid in Customer Success (And What To Say Instead)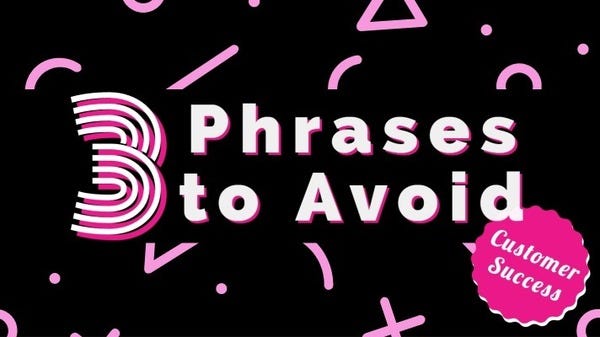 Writing skills in Customer Success are often underrated.
Your primary objective in any communications with your customers is to get to the point fast without any misunderstanding or unintentional offense.
As a general rule, you should always ask yourself: "Does what I'm saying add any more value to the conversation?" If so, go ahead. If not, simply remove it.
But unfortunately, there are still a few phrases people often use that don't move the needle any further.
Worse, these are damaging your reputation as a highly effective Customer Success professional.
So here are 3 of them you should remove from your communications to avoid ruining your relationships with your customers over time:
1/ As per my last email
We've all used this at least once, right? We wanted to tell customers it's already been discussed and we thought it was a great way to remind them.
But looking at it closely, there is way too much aggressivity in this phrase. Why?
Telling your customers that you're repeating yourself in such a formal manner can make you feel empowered, but in reality, it has the opposite consequences.
Basically what you're saying is:
"I mentioned this to you earlier and was expecting you'd take it into consideration. But here I am to remind you a second time. Please ensure you read it as I want to avoid telling you again."
The point people are missing out here is the consideration that your customer is also busy with other priorities. Your email might simply have been buried within tens of others without any voluntary intention from your customer not to read it.
So instead of appearing rude, you can simply ensure your email is back on top of your customer's inbox and say something like:
"Hi, I've just seen [topic] and it reminded me to tell you [what you need them to take action about]"
It's a nice way to catch up without looking too intrusive.
But overall, sending emails is sometimes not enough to get an alignment right on the spot.
So if your customer is not responsive to your inquiries on a given topic, all you need is to go back to the basics:
Skip the email and just give them a call instead!
2/ Just checking in
In Customer Success, taking action with empathy is key.
But similar to the phrase "I'm following up on…", you are setting the focus on yourself whereas it should primarily be on your customer.
Saying this phrase sounds like:
"Hey, I've asked you something but you didn't respond yet. Can you please prioritize and get back to me?"
Besides, you also don't bring in any additional value to the conversation that would trigger your customer to react.
Instead of telling them you are still waiting for a response, a better approach here is to bring in something new:
You could say something like: "curious to see the results of our last conversation around [topic]. Have you had a chance to look into it yet?"
"Here's some additional information I believe would be interesting to you based on our last conversation. Do you have some time on [date/time] to review?"
This is my top preferred one which I've learned from Chris Voss's book "Never Split the Difference".
Basically, no one likes to say they've failed in doing something.
So when you remind people about their promise, it will trigger an immediate reaction.
And I guarantee it makes wonders. Give it a try and let me know!
3/ In my honest opinion
Honesty is the foundation of all your actions!
But as tempting as it can be to emphasize you're being honest, it only damages your credibility and trustworthiness.
As we all know, building trust is key to Customer Success. And your expert knowledge is what your customers are looking for.
By doing your best to give your customers all the information they need at all times, you are demonstrating integrity and honesty which are fundamental to your role as a highly talented and appreciated Customer Success professional.
But in saying such a phrase, you implicitly suggest you've not always been honest which we know is not true of course, right?!!
So, simply remove it from your vocabulary and say things as they are while protecting the interests of all parties.
And that's it!
These are 3 common phrases you should remove from your communications to avoid ruining your relationships with customers:
As per my last email
Just checking in
To be honest with you
But there are more which I'll be covering in the upcoming editions.
Bonus
Here are some powerful techniques you can use to write and communicate better with your customers:
use more periods and fewer commas.
cut all jargon, acronyms, and most redundant adjectives.
keep sentences short, so everyone can assimilate fast without confusion.
don't use complex or complicated words. Break them into simpler ones.
always place your audience as the hero of your copy, using the words "You", more than "Me" or "I".
do not use passive voice sentences.
and finally, read out loud what you've just written. The reader must feel your enthusiasm and energy !!
CS Café Hiring Zone
I'm personally curating the most unique jobs I've come across or have been made aware of this week in Customer Success.
Today's Featured Opportunities
US
LATAM
EMEA
APAC
Thank you!
If you are enjoying my newsletter, the best favor you could do for me is to share it with your network and just say a few nice words online.
Have a great week ahead!
And as always until next Sunday, take care friends!
Hakan.
---
About You
I'm looking forward to learning more about you!
How are things going so far?
Why did you join my newsletter?
What's your biggest struggle right now?
What are the things you'd like me to cover more in my newsletters or help you with?
Please feel free to reach out either by email, on social media, or by clicking the thumbs up below for feedback.
I'd love to hear from you!
---
Let's connect!
Twitter: follow me @DrivingCS – I tweet daily.
Instagram: @drivingcs
Linkedin: let's connect!
Are you looking for a career change to transition into Customer Success? check out my book to learn more about what it takes to become a great CSM and hit the ground running!
The Customer Success Café Podcast
Customer Success fundamental skills and best practices to get ahead in 2022 and beyond!
Top CS news from Silicon Valley to Paris and beyond, daily.
Hakan Ozturk
Founder, TopCSjobs.com & The Customer Success Café Newsletter
Hakan Ozturk is a Paris-based Customer Success leader with over 15 years of experience in the computer software industry. Passionate about driving growth and delivering value to strategic customers, Hakan has established himself as a trusted industry expert. As the Founder of The Customer Success Café Newsletter and TopCSjobs.com, Hakan provides valuable industry insights and daily-updated job opportunities worldwide in the field of Customer Success. Connect with Hakan to unlock your company's potential for success.