The Linkedin Update You've Been Waiting For
Welcome to the 62 new members of the Customer Success Café who have joined us since last Sunday. Join the 586 others who are receiving top CS content to level up their game every single week and sign up for FREE!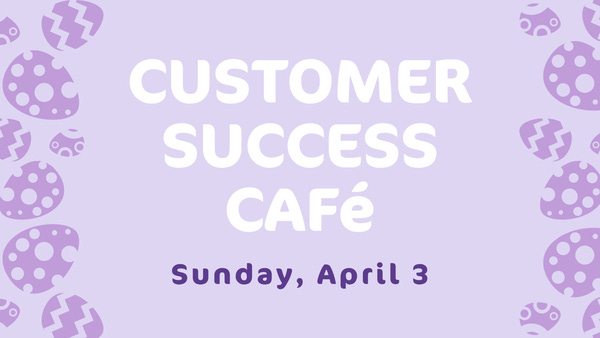 Boom! So happy to share this information with you today!
I've had many other topics to discuss but the news was so big that I wanted to dedicate this entire edition to it! 🙂
I've made the public commitment in my very first newsletter here promising I would follow up on my feature request to Linkedin about having a "Customer Success" field added to their Search engine.
Indeed.
It's been quite a long time since we've been struggling to identify the right CS people based on their roles in the company.
The closest option for people to fine-tune their search was to select "Sales", "Consulting", "Operations" or… nothing!
Problem: none of these represented Customer Success at its core.
So, the search was limited to adding a few keywords like "success" or "customer success":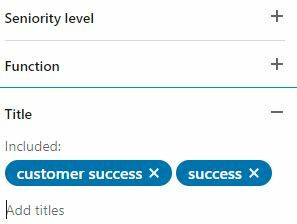 Well, it only took two months for the Product Teams at Linkedin to make the Customer Success professional's dream come true :-))
You might have seen this already, but there is now a "Customer Success and Support" function added to the search engine which will allow you to be more granular in your search queries (Yayy!!:-)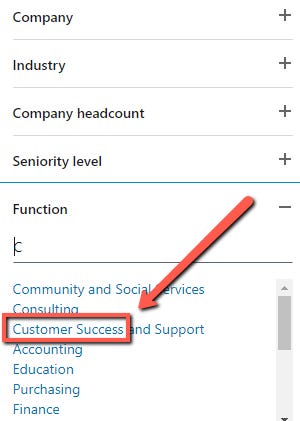 Linkedin Sales Navigator Search Engine
With this latest improvement among others, it will be much easier for people to be more specific in their search for Customer Success professionals.
Back to the time when I initially posted my suggestion on the platform, we've had many reactions from the CS community that confirmed the need for such a feature.
Moreover, people started questioning the reasons why it was still not implemented as Customer Success existed for 20+ years already!!
Customer Success is not new
Indeed.
It all started back in 1996 with a few companies introducing the Customer Success function until when it got popularized at scale with Salesforce in 2005 and their "Customers For Life" department.
The function then grew exponentially when more and more companies started transitioning into the subscription economy.
Today, it's also spreading across multiple other industries where you can find dedicated Customer Success teams: Manufacturing, Healthcare, or even Hospitality just to name a few.
Over the years, Customer Success has become a vital function, ensuring customers get the greatest return from their investment in the company's products or services.
We even call it the "new growth engine" for many companies out there!
As of now, there are 180k+ Customer Success profiles on Linkedin, and the role of Customer Success Manager has become the hottest and the fastest-growing job in the world as I wrote about it in my previous edition here!
And with this latest change on the Linkedin platform, I believe it will be of greater help for the CS community to stand out and get the further attention it deserves!
Next Steps
Now, I can hear what you are thinking.
We would probably have preferred having a separate "Customer Success" function and not just a "CS & Support" group all in one.
But I think this is still big progress compared to having no option at all as previously.
So, I've run a few tests to check how accurate the results would be.
Here's the simple query I used:
Relationships: 2nd Degree Connections
Industry: Computer Software
Function: Customer Success and Support :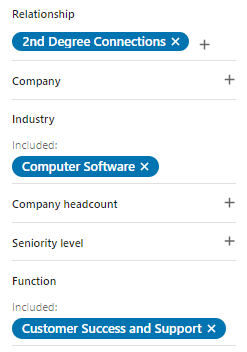 And the system returned the following profiles:
Director of Customer Success, Head of Customer Support, Customer Experience Director, Enterprise Customer Success Director, Principal Customer Success Manager, Global Director of Customer Success, etc.
As you can see, the query does not show up "Customer Success" profiles only but a broader selection, including Support or Customer Experience profiles.
Yet I believe this is something that will evolve and become more specific over time as the Customer Success function continues to grow.
So next time you're looking for someone in a CS position, I'd encourage you to test the new search function and see if that helps you refine the results.
Also please feel free to comment on the initial feature request where Ryan Roslansky, the CEO of Linkedin himself stepped in to make this change happen!
Last but not least, special thanks to Omar Siddiqui, Head of Product, and Swathi Singh, Product Manager at Linkedin for their great collaboration and follow-up on this important topic!
Well, that's it for today!
Thank you again for subscribing and helping me grow this incredible community of highly talented people like yourself.
If you've found today's news helpful, please share it with your friends and network to spread out the information!
Ohh, if you could also please give me a thumbs up below and provide your feedback, that would be awesome!
Have a nice day and a productive week ahead.
Can't wait to speak with you again next Sunday!
Cheers,
Hakan.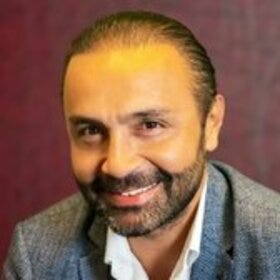 The Customer Success Café
A quick CS best practice to your inbox you can read under 5 mins every Sunday at 3 pm CET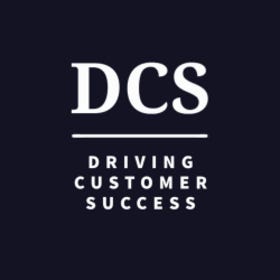 For more Customer Success news, visit DrivingCustomerSuccess.com
Top CS news from Silicon Valley to Paris, daily.
Hakan Ozturk
Founder, TopCSjobs.com & The Customer Success Café Newsletter
Hakan Ozturk is a Paris-based Customer Success leader with over 15 years of experience in the computer software industry. Passionate about driving growth and delivering value to strategic customers, Hakan has established himself as a trusted industry expert. As the Founder of The Customer Success Café Newsletter and TopCSjobs.com, Hakan provides valuable industry insights and daily-updated job opportunities worldwide in the field of Customer Success. Connect with Hakan to unlock your company's potential for success.