How To Write Emails Your Customers Can't Ignore But Respond Immediately
(4-min read)
Welcome to the weekly Customer Success Café newsletter!
23 new members have joined us since last Sunday, and 953 top talented pros are now receiving a quick CS best practice to level up their skills every single week.
If you are not subscribed yet, sign up now to ensure you receive the upcoming editions in your inbox!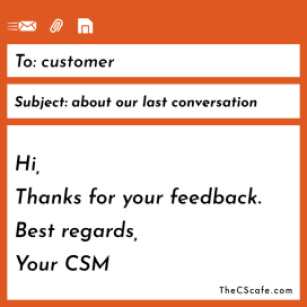 All right. You've sent an important email to your customer but after waiting for a while, you've got nothing in return!
So, how comes? This is your customer and you're in charge of building strong relationships.
You crafted your message, spent time on it, and thought they would respond for sure.
But silence… it was like sending your message into the void.
You're now upset and you've started questioning your abilities.
Some of you even had the imposter syndrome asking if you were in the right position with the required authority and credibility to contact the customer.
But whatever you tried to do, you couldn't get passed this initial step.
Then you wanted to find excuses and justify to yourself why your customer was wrong in not responding.
And according to you, they've missed out on a big opportunity for sure.
Sounds familiar?
Unfortunately, this is a common scenario where the customer goes silent.
So it's time to stop complaining, shift your attention from yourself and your company, and start focusing on your customer instead.
And in today's edition, I wanted to cover 3 techniques you can use to craft a message that will make your customer take action right on the spot. So here we go:
1) AIDA
The formula stands for Attention, Interest, Desire, and Action.
It's a proven framework for almost a century used to persuade others to take action.
You can use it for any outreach you are making to people you have not interacted with yet, in particular on social media.
Here's how it works:
1) Attention
Your primary goal is to get your customer's attention so they start reading your message.
This is why your subject line must hook them first and make them click on your email to open it up.
2) Interest
Next, you must show your customer that you reached out for a very interesting topic for them and that you're not wasting their time.
3) Desire
Now is the time to introduce the context for reaching out and how it would benefit them.
This is where you can say for example how valuable your proposal is, how great it fits into their environment, etc.
4) Action
The final step is telling your customer the exact steps you want them to make with a call-to-action (CTA).
It must be perfectly clear and also should not require any particular effort from their side.
All you need to do is to make sure it's dead easy to move on.
2) KISS: Keep It Simple Stupid
I love how simple this technique is.
You could also memorize it like "keep it short and simple" or "keep it short and sweet".
The term comes from the design world where the simpler your design, the more successful it will be.
As the name speaks by itself, it's all about:
using simple text,
a limited number of graphics in the body of your email,
and showing a clear call-to-action at the end.
Basically, your message should:
1) have a clear purpose
One main goal only, as having too many could end up confusing your customer.
PS: you can insert links but just ensure they are all pointing toward the main topic of your email.
2) be mobile friendly
No need to complicate the layout of your email which otherwise couldn't be read properly on a mobile device.
This mostly happens when for example you or the marketing teams send out invitations to events with formatted images, banners, etc.
Before hitting the send button, just ensure you tested it on different devices for ease of reading.
3) have your offer on top
Sometimes you want to tell many things before concluding and placing your call-to-action.
But delaying it too far in the body of your email can prevent your customer from reading it at all.
So, ensure the call-to-action is close to the top of your email.
4) have a simple design
Don't overcomplicate the design of your email. Again, just keep it simple.
5) have the least images possible
Most of your emails are open with the images being blocked by the messaging software at first.
So the customer ends up having an email with lots of empty boxes before even reading the first line of text.
It's a sure way to make customers stop reading or worse, delete your email right on the spot.
So ensure you get the least amount of pictures in your email body.
Again, KISS – keep it simple stupid!
3) WIIFM: What's In It For Me
And finally, ensure you write your email by answering this question after every sentence: "so what?"
This is what your customers have in mind when they receive an email from you.
Why should they open it up and read?
What are the benefits for them to take the time and go through your email?
Therefore, your top objective should be to outline how beneficial your proposal or call-to-action is for them and explain how it would solve their problems or fulfill their needs.
Talk about the benefits, not features
Include more of "You" instead of "I" or "We": shift your focus to your customer. Remember: they are the hero, not you.
Customize and personalize your messaging: this is where the relationship you've built comes into play. Use it to your advantage to hook your customer's interest.
Showcase other stories of customers who succeeded with your proposal.
And that's it!
These are the top 3 techniques you can apply as a highly effective Customer Succes professional to earn your customer's attention and get them to respond to your emails quick:
AIDA
KISS
WIIFM
PS: I'm preparing all the templates you can use in your day-to-day communications. I've tested them over the years and I guarantee they work! Interested? Just hit the thumbs up below and I'll add you to my early-access list for an exclusive discount before I share this publicly.
Note that I'm also covering more of these effective communication and writing skills in my book "How To Become A Customer Success Manager", check it out!
---
CS Café Hiring Zone
I'm personally curating the most unique jobs I've come across or have been made aware of this week in Customer Success.
P.s. Let me know if you want exposure to the opportunities at your company and I'll include them in my newsletter.
Thank you!
If you are enjoying my newsletter, the best favor you could do for me is to share it with your network and just say a few nice words online.
Have a great week ahead!
And as always until next Sunday, take care friends!
Hakan.
---
About You
I'd love to connect and learn more about you!
Please feel free to reach out either by email, on social media, or by clicking the thumbs up below for feedback.
Note: I never disclose private messages publicly without asking for permission first.
---
Let's connect!
Twitter: follow me @DrivingCS – I tweet daily.
Instagram: @drivingcs
Linkedin: let's connect!
The Customer Success Café Podcast
Customer Success fundamental skills and best practices to get ahead in 2022 and beyond!
Top CS news from Silicon Valley to Paris and beyond, daily.
Hakan Ozturk
Founder, TopCSjobs.com & The Customer Success Café Newsletter
Hakan Ozturk is a Paris-based Customer Success leader with over 15 years of experience in the computer software industry. Passionate about driving growth and delivering value to strategic customers, Hakan has established himself as a trusted industry expert. As the Founder of The Customer Success Café Newsletter and TopCSjobs.com, Hakan provides valuable industry insights and daily-updated job opportunities worldwide in the field of Customer Success. Connect with Hakan to unlock your company's potential for success.