Top 2 Questions To Ask In a Job Interview For Customer Success
(4-min read)
Welcome to the weekly Customer Success Café newsletter!
930 other smart people are getting a quick CS knowledge pill from me to level up their skills every single week!
If you are not subscribed yet, join them and sign up now!
🎉Today also marks the 20th edition of my newsletter and I can't thank you all enough for your support! Here is to many more editions to come!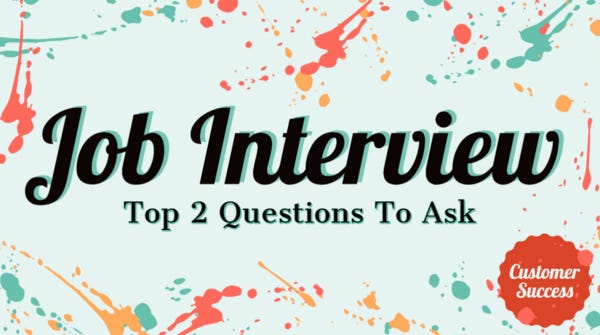 #20 The CS Café – Top 2 Questions To Ask In a Job Interview For Customer Success
Milton Berle once said:
If opportunity doesn't knock, build a door.
So true.
Preparation is a major contributor to any success.
And the interview process for Customer Success is no different than for any other job opportunities on the market.
You certainly need to focus on a few critical soft skills and demonstrate how you'll ensure success for your customers as I've covered in the previous editions.
And yet there is one opportunity I see most people still missing out on that could help them nail the interview process.
And it's about asking questions to your interviewer.
All CS leaders I've been discussing with agree on one common expectation:
Candidates need to show interest in the role by asking genuine and well-researched questions to set themselves ahead of the competition.
And in contrast, someone who does not ask any questions is an absolute no-go!
However, these shouldn't be questions that can easily be answered with a few clicks on Google but are specific to your interviewer's interest and needs.
Many of my peers have already described the most common questions you can ask during a job interview in Customer Success:
how is the team structured?
who the CS is reporting to (CEO? CFO? …)
how are you handling customer segmentation?
What would a typical day look like for someone in this role? etc.
These tactical questions are important and will surely help.
But I believe they are not addressing the core points you need to focus on and develop.
This is why, today, I wanted to give you some quick insights that will save you tons of time, speed up the process and most importantly help you stand out immediately!
So here are the top 2 questions you should ask your interviewer in priority:
1) What is your biggest challenge at the moment?
Your objective as a CS professional is to identify your customers' pain points, help them overcome challenges, and ultimately succeed, right?
So, the same principle applies to any people you're discussing with.
Whether it's at the first screening step with HR, or with any other folks within the CS organization, you need to position yourself as the guide helping them succeed.
Therefore, your primary goal should be to focus on your interviewer's own pain points and challenges.
This will help you shift the attention from yourself to your counterpart, and reveal the most urgent and important priorities that will make them take action quickly! (see the "Eisenhower Matrix" I've covered in the previous edition on how to nail this.)
Now, with that critical info in hand, all you have to do is to tell them how your skills and experiences would be a great match and why you're the best candidate for the position!
It always reminds me of what the greatest boxer of all time Muhammed Ali once said:
To be a great champion, you must believe you are the best. If you're not, pretend you are.
And when you ask this question "what is your biggest challenge at the moment?", here's what you'll probably get as an answer:
HR: "We have many CS applicants but I'm struggling to find the one who can hit the ground running with great industry experience"
CS Hiring Manager: "I need someone who is able to discuss with customers at C-level to drive strategic partnerships"
One of your future teammates: "most of our team is composed of technical people focused on the product. This is sometimes challenging as we need to become more diverse and creative in our approach".
And there you are!
Your interviewer just offered you an awesome opportunity to shine and stand out.
So, seize it, and hit the target right on the spot!
2) What are the top qualities someone needs to succeed in this role?
The last thing you want in an interview is to waste time going through every single detail of your CV to find out, at the very end, that your interviewer was looking for something else for this specific job!
This is why you need to ask this question early in the process to position yourself where it matters the most for them.
In doing so, they will tell you exactly what they are looking for: "we need someone with X, Y, and Z skills"
And your immediate answer will be:
"Oh, that's great! because I actually do have these skills. I've done that in my current/previous roles, etc."
It's like when you skip the line and get to the point fast!
Moreover, this will position you as someone who is focused on outcomes and has a great bias for taking action.
What a great way to conclude the interview for a Customer Success role, isn't it?
At this point, you're definitely ahead of the 99% of other candidates.
And as for the remaining 1%, it's a bit about luck.
But as the famous saying goes:
Luck is when opportunity meets with preparation!
So, all the best for your next interview,
and …good luck!
Well, that's it!
Give it a try. Ask these 2 questions and I guarantee you'll make a greater impression on your interviewer and stand out immediately!
I'm happy to discuss this further with you offline, so please feel free to reach out!
PS: do you want to maximize your chances of getting hired even faster? If so, I've got you covered as well! see my previous post on how to land your dream job without applying desperately!
---
CS Café Hiring Zone
I'm personally curating the most unique jobs I've come across or have been made aware of this week in Customer Success.
P.s. Let me know if you want exposure to the opportunities at your company and I'll include them in my newsletter.
Thank you!
If you are enjoying my newsletter, the best favor you could do for me is to share it with your network or just say a few nice words online.
Have a great week ahead!
And as always until next Sunday, take care friends!
Hakan.
---
About you
I'm looking forward to learning more about you!
How are things going so far?
Where are you based/from?
Why did you join my newsletter?
What's your biggest struggle right now?
What are the things you'd like to see more in my newsletter?
Please feel free to reach out either by email, on social media, or by clicking the thumbs up below for feedback.
I'd love to hear from you!
---
Let's connect
Twitter: follow me @DrivingCS – I tweet daily.
Instagram: @drivingcs
Linkedin: let's connect!
Are you looking for a career change to transition into Customer Success? check out my book to learn more about what it takes to become a great CSM and hit the ground running!
The Customer Success Café | Podcast on Spotify
Customer Success fundamental skills and best practices to get ahead in 2022 and beyond!
Driving Customer Success – Customer Success: The Lifeblood of Your Business
Top CS news from Silicon Valley to Paris and beyond, daily.
Hakan Ozturk
Founder, TopCSjobs.com & The Customer Success Café Newsletter
Hakan Ozturk is a Paris-based Customer Success leader with over 15 years of experience in the computer software industry. Passionate about driving growth and delivering value to strategic customers, Hakan has established himself as a trusted industry expert. As the Founder of The Customer Success Café Newsletter and TopCSjobs.com, Hakan provides valuable industry insights and daily-updated job opportunities worldwide in the field of Customer Success. Connect with Hakan to unlock your company's potential for success.